TV-programmen läggs till snart - The TV shows will be added soon.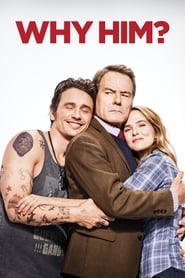 Why Him? Dreamfilm online gratis
Barb och Ned Fleming besöker sin dotter Stephanie på college i sällskap med sonen Scotty. Det blir inte riktigt som Ned tänkt sig då hennes nya pojkvän Laird Mayhew dyker upp och visar sig vara hans värsta mardröm. Laird är en framgångsrik Silicon Valley-miljonär med en vulgär personlighet. Ned börjar genast förakta Laird och när denne berättar att han tänker fria till Stephanie om fem dagar och inleder en charmoffensiv gentemot familjen börjar Ned intrigera för att Laird inte ska bli hans svärson.
Duration: 111 min
Quality: HD
Release: 2016
Bästa filmer på Dreamfilm